What does tailor-made advice mean?
---
We are the specialists in the field of nutrition!
When you make an appointment with us, you are central. Everyone gets personal nutritional advice from us. This personal advice is an advantage for you.
Together with you we discuss what your achievable goals are. We'll apply this in our "tailor-made" advice.

Our working method
During the first consultation, we collect information about your eating habits, personal data, complaints, your expectations and maybe a referral from your doctor or specialist.
After going through your diet and drinking habits, we'll tailor a dietary advice for you. We take your culture, taste preferences, living situation and daily schedule into account.
In the follow-up consultations, we guide you in following your nutritional advice. We guide you in adjusting your diet, so that you familiarize it. We also give you all kinds of advice and practical tips to adjust your eating habits. This includes tips on how to handle special occasions such as parties, dining out, family visits and holidays. Remember: the dietician isn't as strict as you think!

We know everything about trendy nutrition.
All kinds of diets sometimes fly over your head. Then the low-carb diet is a hype, then raw food is hot again or is it best to cut fat? We can discuss all the options and also explain the advantages and disadvantages. This way you can determine what suits you and what's possible within your situation. Obviously, we can guide you in this. You decide how often and for how long you need this.
We are immediately accessible!
This means that you can also contact us without a referral letter. Just to be sure, you can check your insurance policy, because there are a few companies (Ohra, CZ, Delta Loyd, Aevitae, de Friesland, de Goudse, Zekur) that still ask for a referral letter as a criterion for getting the consultation reimbursed!
We are easily and quickly reachable!
* We're open 5 days a week from 8.30 am to 5.00 pm and also have an evening consultation in Amstelveen and Amsterdam.
* If we cannot answer the phone, you can always leave a message and we'll call you back within 24 hours.
* All our locations are easily accessible by public transport, car and bicycle!
You're at the right place!
We're always ready to draw up a personal nutritional advice with you. You won't receive a "standard" A-4, but a "tailor-made advice".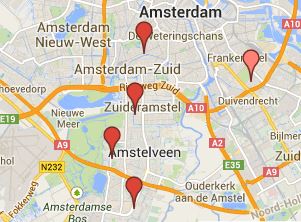 We are trend watchers!
We keep a close eye on the latest forecasts and signals. Every discipline has its own trends and in nutrition there are a lot, it often changes and a lot of news comes in. It's up to us to filter all this properly and to translate it into useful information for you.